Feature tour
Following is a demo video for E-commerce industry showcasing SecondScreen's usecase.
It can be used similarly in other online businesses.
REALTIME EVENTS
Monitor your visitor actions in realtime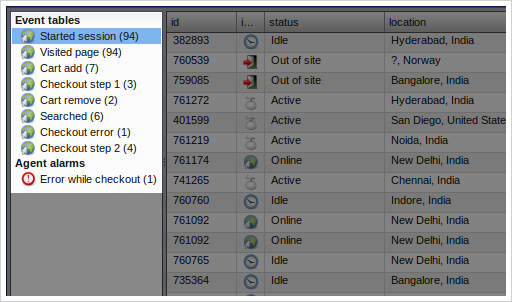 Realtime event tables are of immense help in identifying high potential visitors exhibiting hot lead or abandonment behavior patterns. We show you visitors grouped into different tables based on their activity on your website.
Not aggregated data but list of realtime data for each visitor on the website
Not just page views or time spent, monitor any activity that matters to your business. Find visitors adding items to cart, checking out high value products, experiencing checkout errors etc.
Instantly engage with your high potential visitors from the event tables
EVENT PROPERTIES
Make events more valuable by associating relevant properties
Just knowing that a visitor has performed an activity does not make much sense unless you can know more about the activity performed. Hence we allow you to send any number of properties with each event. The adjacent image shows the "cart add" event table with properties "product name" and the "cost" of the product. This feature helps in you in further filtering high potential visitors that you might want to understand and engage with.
Easily filter visitors with higher cart values
Figure out visitors showing deep interest in your products
Easily spot visitors that require hand holding through your purchase process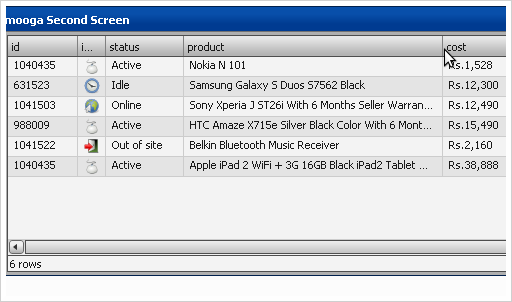 REALTIME SCREEN MIRROR
View visitors' interactions with your website in realtime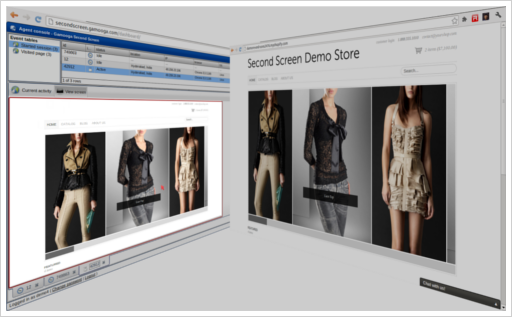 Watch your visitor's every mouse move, mouse click, page scroll, keystroke, page navigation etc all in realtime. Such visualisation is an indispensible tool to understand your visitor's behavior and intent and provide instant and meaningful support with least possible friction thereby immensely increasing conversion rates.
Quicker identification of customer issues
Improved and shortened first call resolutions
Instant feeback on customer response and hence interact effectively
Increased customer satifaction and retention rates
REALTIME CHAT
Chat with your visitors right away
Start chatting with your visitors instantly right when they need it. Support high value checkout or hand hold visitors experiencing checkout errors. Discuss product options with visitors showing deep interest.
We also embed a 'Chat with us' widget on the website so your visitors can instantly reach you as and when they wish.
Use canned messages to respond faster
Transfer chat to other agents as required
Widget fully customizable to your website's design
Hide/show your chat widget based on your requirements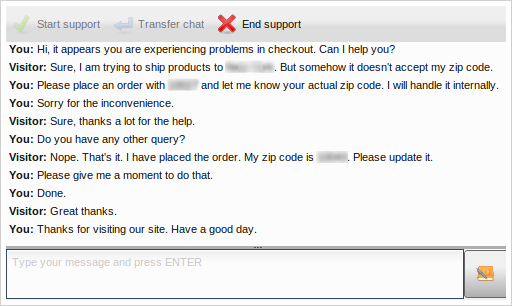 CRITICAL ACTIVITY ALERTS
Proactively alert your agents when critical activities occur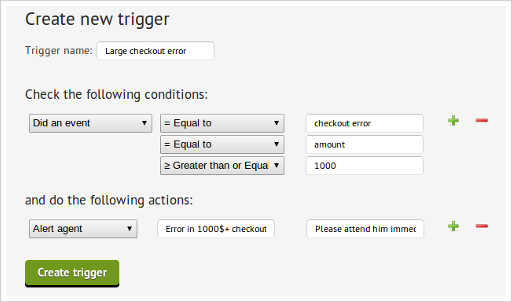 There are case when it is difficult for your agents to identify high potential visitors on their own. Our critical activity alerts are highly useful in such scenarios. You can proactively alert your agents when activities of criticality occur on your website. Your agents can then immediately attend to them and instantly resolve the issues.
Create alerts easily in our admin panel
Configure alerts using wide variety of conditions
Send alerts using our API too
Very accurate idenfication of high potential visitors
Guaranteed agent productivity and maximum ROI